Denise

Denise

Gender

Female

Position

Office Manageress

Relaxes by

Making sure overdue tasks get worked on

Likes

Helping people achieve their goals

Dislikes

Getting in trouble for too many overdue tasks

First Appearance

Episode 1 "First Day on the Job"

Final Appearance

Episode 30 "Her Real Plan"
"Don't worry. I'm sure we can figure something out!"
Denise is the Office Manageress of Conkling Associates International and the main protagonist of Miss Management. Players control her to manage the staff by assigning tasks, buying office supplies and deliver them to the other character's desks.
Background
Edit
Denise starts working as the office Manageress right after the New Year's Day celebration while everyone has gone home except Mahavir. By the help of the only employee left in the office, she learned how to run the office.
Eventually, she met all the other staff in C.A.I who returns to work. After a few weeks, she spends some weekends off to put new carpeting and repaint the office, a decision that upsets Pearl. She even hired Luke as a freelance writer which ticks Pearl even more.
Denise moved to Paris to study in grad school in Sorbonne. She went on to become a renowned psychotherapist, specializing in mild neurosis, workplace issues and stress disorders.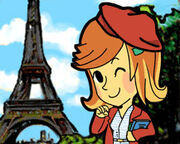 Appearance
Edit
Denise has flipped shoulder length red hair with green clips on the sides. She wears a red jacket with light green top and capri pants.
Personality
Edit
Denise is often caring and passionate about her co-workers and she is good at her job. She too has leadership qualities, speaks her mind and motivates everyone around her. She is also the voice of reason in the office, as she tries to rationalize everything and understands the problems other people face.
As she is the main character of the game, the day will be considered failed if Denise is stressed out.
It is implied that she and Mahavir have a romantic relationship.
Pearl calls her Debra the first time she met Denise.
Denise is the only female employee that Duncan can relate to because she "wears pants like a man".