Winston

Winston

Gender

Male

Position

Tech Support

Relaxes by

Playing video games

Likes

Air conditioning, music

Dislikes

People messing with his equipment

Strengths

Technical

Weaknesses

Art

First Appearance

Episode 5 "Technically Unsupportive"

Final Appearance

Episode 30 "Her Real Plan"
"Keep your hands off of my rack. I'm talking about the server, you jerk!"
Winston is the Technical Support of C.A.I of Miss Management. He is often the sarcastic one.
Background
Edit
Winston, unlike other employees in C.A.I, he goes around C.A.I branches to help sort out technical problems. He has an engineering degree. His father is an anesthesiologist at a hospital nearby.
Winston is still working in C.A.I but he wound up as the Chief Technological Officer despite his best efforts. He has the high score of ZAP! and spends time burning the latest CD of his jazz quartet to give to his friends.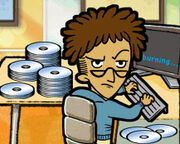 Appearance
Edit
Winston wears glasses and has brown frizzy hair. He wears a blue hoodie and beige shorts.
Personality
Edit
Winston is the most down to earth of all the characters. He sarcastic, cynical, a bit nerdy, and smart. He dislikes partying and raving and spends his free time making jazz music and rock climbing instead. Unlike other characters, Winston lacks any strange habits or complexes. Denise often seeks him for advice as he is the most sensible one in the office.
Similar to his sister Brooke as well as Nadine, he does not trust anyone else doing tasks that he is good at, i.e. technical tasks.